The Flying H Ranch, located in the Flint Hills of northeastern Butler County near Cassoday, is owned by Jim and Cathy Hoy. The origins of our ranch go back to 1877 when William and Mary Ann Davison Hoy left Ohio and bought 80 acres in Section 15/Township 23/Range 7, which lies on the Walnut River one mile west of present-day Cassoday. They were the third owners of the property, the first being Samuel Slover, whose 1869 patent bears the signature of President Ulysses S. Grant. The Hoys paid Silas Finnefrock $900 for a farm that had a three-room house and a stable with limestone walls and a straw roof.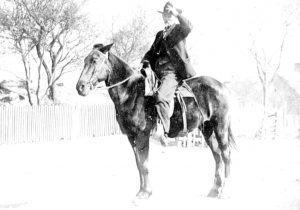 William Hoy, a Union veteran of the Civil War, was a quiet, easy-going man. He was a capable farmer/stockman and active in the community, serving on the school board for several years, but his wife was more outgoing and outspoken. She was a midwife, helping to deliver many babies in the area. She also, in addition to donating land for the local church, helped to organize the first Sunday School in Sycamore Township.
Several settlers coming to Sycamore Springs (as the area around Cassoday was then called) lived in the stable on the Hoy farm until they found land of their own, while travelers passing through often sheltered there and were fed by Mary Ann. One of those traveling families lost a baby to fever while camped along the Walnut, about a quarter of a mile south of the house. Mary Ann offered to let the family bury their child in the southwest corner of the property, promising that the grave would remain undisturbed.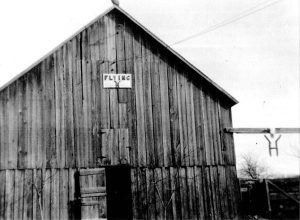 She then gave two acres at the site for the building of Sycamore Springs Methodist Church and for a cemetery, stipulating only that no charge be made for burial plots. In the 1930s the church was moved to its present location in Cassoday, while in the 1990s two more acres were added to the cemetery.
In 1872 the Kaw Indians were removed from their reservation near Council Grove to northern Oklahoma, the Pawnee of Nebraska four years later. Members of both tribes often passed through the Hoy farm, where trails made by their travois can still be seen. At one time a group of some 250 camped on the nearby Walnut River for two days. A story passed down in the family tells how a small band stopped one day and asked Mary Ann for food. William (called Pappy Hoy by his children and grandchildren) had butchered a hog earlier in the day, so Mary Ann gave them the liver and a noisy rooster she wanted to get rid of. The Indians built a small fire on top of the storm cellar east of the house, cooked their food, and thanked Mary Ann as they left.
The Hoys had three children born in Ohio–Loretta, Daisy, and James (who died of fever four years after coming to Kansas)–and two born in Kansas, Frank and Ethel. Etta married Frank Goodnight, a rancher from Englewood in Clark County; Daisy married Herbert Robinson of Cassoday; Ethel married Clark Wright of Wild Horse, Colorado. Franklin Pierce Hoy stayed at Cassoday, helping his father with cattle, horses, and crops. As a youth he loose-herded cattle near Jack Springs on the open range between Cassoday and Matfield Green. He was paid 25 cents a day by the cattle owners, who lived at Newton.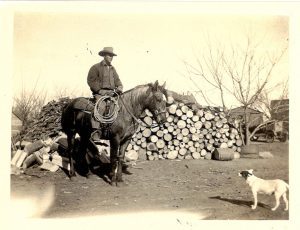 In 1889, Frank Hoy bought 200 acres of land adjoining the original homestead. Twelve years later he married Glory Katherine Breidenstein, daughter of German immigrants who had lived near Rosalia and DeGraff before moving to Sycamore Springs. Their family included four daughters—Jeruah, Cleda, Virginia, and Grace (who died as a child)–and two sons, Kenneth and Marshall. In addition to the 280 acres (including the original homestead), Frank added another 80 acres a mile and a half west, and also leased pasture for his operation, which included cattle, hogs, horses, mules, and crops. At an early age Kenneth and Marshall began breaking horses for neighbors and helping some of the big ranchers in the area. They often worked for Dow Gilbreath of Madison, riding cross country and sometimes camping out in oilfield shacks, to help ship cattle out of the Matfield Green stockyards. They were top pasture cowboys and also traveled by horseback to ride broncs, bulldog, and rope at area rodeos such as Newton, Dexter, Madison, and El Dorado. Later Marshall became a top competitor at professional rodeos. The two sons worked with their father until 1946. At that time Marshall and his wife, Berdine, and two daughters, Judy and Ann, moved to Towanda.
Kenneth, like his father, Frank, spent his entire life on the Cassoday property his grandparents and parents had put together. In 1938 he married Marteil Rice, a school teacher from Sumner County, a union that produced two children, James (Jim) Franklin and Rita Ann. Rita married steer roper H.L. Todd of Rexford in 1961, and Jim married Catherine (Cathy) Thompson of Chanute in 1965.
Upon the death of Glory Hoy (who died in 1964, twelve years after her husband), Kenneth inherited the original homestead of William and Mary Ann Hoy. Earlier he and Marty had bought 40 acres along the Walnut River in Section 16, just west of that 80-acre property. In 1956 they bought a quarter section, the old Fluke place, in Section 3, and in the 1960s the northeast quarter of Section 16. This, in addition to over a section of leased ground in four different locations within a couple of miles of the home place, was the ranch that I grew up on.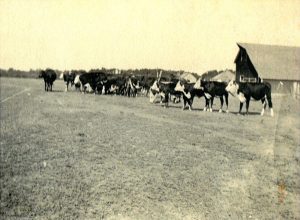 At 700 acres the Flying H Ranch is small compared to many of the big ranches in the Cassoday area, and the Flint Hills in general, but it is typical of many such operations throughout the Hills in an earlier era. We ran about 100 cows (originally Herefords, then later black baldies), keeping them on the leased upland grass during the grazing season, and we raised crops along the bottomland fields to feed them through the winter. Those crops included oats for the horses and prairie hay, alfalfa, and kaffir corn to feed the cows. Our saddle horses, except for maybe one or two, and extra mules we turned out for the winter in a section pasture just northwest of our property.
We rarely fed out cattle but would instead sell weanling calves or yearlings, which we usually hauled in a one-ton GMC truck to the livestock auctions at El Dorado or Emporia, or to the stockyards in Wichita. I don't remember it, but my grandfather stood a Percheron stallion. I do remember the Mammoth jack he kept for raising mules, both for our ranch and for neighbors. When I was very young, the ranch had some two dozen brood mares, in addition to the cow horses. We raised a few mules during my high school years and later, and also some saddle horses, breeding our mares to a neighbor's stallion. My father also enjoyed trading horses, sometimes with neighbors, sometimes with a couple of traders who would come by at irregular intervals. In addition to working with our own cattle, we often helped pasturemen in the Cassoday-Matfield Green area with receiving Texas cattle that arrived on the Santa Fe Railroad in the spring and shipping them in the summer and fall. Some of these ranchers included Karl Harsh, Grover Prewitt, Wayne Rogler, and Frank Klasser.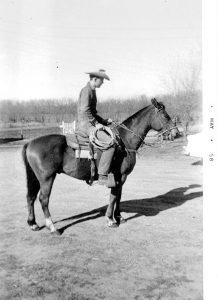 Some of my earliest memories are of riding pastures with Dad, which we always did after a rain to check on possible lightning kills. Dad rode Taffy, a yellow buckskin mare, Rita rode Paint, her hard-to-catch gelding, and I had a dun named Buckskin Joe. As we rode, Dad would tell us about horses and greyhounds he had owned, horseback coyote hunts with his brother and father, the early-day pasture rodeos at Cassoday, and the time in 1923 when, at the age of 19, he had helped drive a herd of 1,400 steers from the Texas Panhandle to wheat pasture near Englewood in Clark County. He would also recite poems he had memorized in high school: "The Ride of Jennie McNeal" and "Sheridan's Ride."
In the 1960s, after I had left home, Dad began cutting down the size of the cowherd. He had switched the cattle breed to brahmas by buying roping calves from some of the roping clubs in the area. By this time he had planted the farmland back to grass, feeding protein pellets and baled hay to the cows in winter.
In the 1970s Cathy and I bought 60 acres of grass that was the inheritance of one of my aunts. This pasture adjoined the Home 80 at the northeast corner. Around 1990 we bought from a distant cousin 200 acres that adjoined that pasture. After my parents died, we inherited the Home 80 and the 200 acres across the road west of it, and in 2005 we bought the north quarter section that my sister had inherited. We lease part of the grass to a neighbor and look after stocker cattle on the rest during grazing season.
Across the exit from the Kansas Turnpike at Cassoday is an attractive metal sign commemorating the conservation easement that we placed with the Ranchland Trust of Kansas in 2007. All 700 acres of our ranch, less about 17 acres of carve-outs for buildings will forever remain a ranch, a move strongly supported by our children and their families. Our daughter, Farrell Jenab, lives in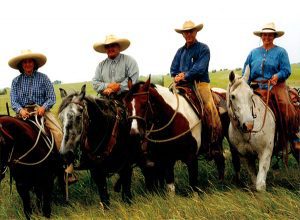 Overland Park with her husband, Larry. She teaches at Johnson County Community College and Larry is an attorney. They and their two children, Henry and Lucy, love coming to the ranch, riding, and helping with ranch work. Our son, Josh, his wife, Gwen, and their daughter, Josie, own the Flying W Ranch in Chase County, about 20 miles northwest of ours, carrying on the ranching tradition.
About the brand itself: one April during World War I several hundred New Mexico steers were shipped into the Santa Fe stockyards at Cassoday for the summer grazing season. These big steers bore a Flying H brand, which attracted the attention of my grandfather. He registered that brand on the right hip for cattle and horses, and we have kept that registration current for nearly a hundred years now. One of the original hand-forged Flying H branding irons today rests on the mantel above our fireplace.