OUR HISTORY
In 2003, the Kansas Livestock Association formed the Kansas Livestock Association Ranchland Trust. Renamed the Ranchland Trust of Kansas (RTK) in 2008, RTK works in cooperative agreement with voluntary ranchers and conservation partners to create perpetual conservation easements. These partnerships help not only the environment, wildlife and ecosystems of Kansas but aid land stewards in achieving successful financial goals for their operations and family.
MISSION
To preserve Kansas' ranching heritage and open spaces for future generations through conservation of working landscapes.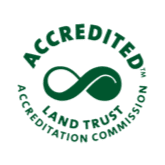 ACCREDITATION
RTK is one of over 450 accredited land trusts in America which protects 20 million acres of all land and easements held by a land trust. Accreditation is a voluntary program administered by the
Land Trust Accreditation Commission
which holds land trusts to a standard of best practices and ethics.
AFFILIATE
Affiliate of the Kansas Livestock Association
The Ranchland Trust of Kansas is an affiliate of the Kansas Livestock Association. In 1894, cattlemen in Kansas discovered there was safety – and power – in numbers, and the Kansas Livestock Association was born. Now, over a century later, Kansas cattlemen still are banding together to protect their livelihood. The association continues to serve members by fulfilling its mission to: "Advance members' common business interests and enhance their ability to meet consumer  demand."