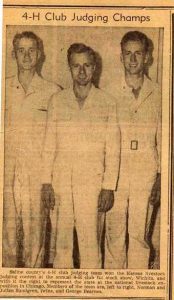 In 1934 Gene Sundgren was a 158 pound All Big Six lineman for Kansas State College in Manhattan. The drive and determination that Coach Waldorf admired in Sundgren on K -States successful run for a Big Six Championship that year transferred to the Registered Hereford business for the next 30 years. After graduation Gene Sundgren started employment as ranch manager for John Vanier at CK Ranch at Brookville. Sundgren grew up just 15 miles south of CK Ranch in the small Swedish community of Falun. During Sundgren's 15 year tenure at CK the ranch grew to be the largest Hereford operation in the state and one of the largest and best in the nation.Gene Sundgren had a pair of younger twin brothers that were building their own Registered Hereford operation at the homestead north west of Lindsborg during this time. Norman and Jay Sundgren were partners with their father, Ebbie, in raising and selling Herefords from Texas to Canada. Norman and Jay displayed the same keen eye for the cattle business as their older brother. In 1938 the twins were 2/3 of the Kansas 4-H livestock judging team that won the State Fair, Wichita and won 3rd at Nationals in Chicago. The young men finished 3rd in cattle judging and under Coach Jerry Moxley won 1st in the nation in horse judging at Chicago. After stints at Kansas State, Norman went in to the Army during World War II and Jay returned to the farm until Norman returned from Europe.
In 1952, as Gene left CK Ranch, the three brothers joined together to create Sun Ranch. The operation quickly became the second largest Hereford breeder in Kansas with over 600 registered cows. In addition to Sun Ranch, Sun Sales Service sold over 3,000 registered Herefords annually at 8 spring and fall sales. The senior herd bull of Sun Ranch was Sun Zato Heir, a strong, growthy bull that produced ideal ranch calves. Denver, Chicago and Ft. Worth were on the calendar for bull shows and sales. Jay Sundgren, who celebrated his 90th birthday in the summer of 2010, told stories of riding rail cars headed to Denver with the bulls. "Those rail cars would have bales of hay piled high to protect us from the cold and tanks of water, not for the bulls but to put out any fires from the coal sparks. When we got to Denver sometimes the doors would be frozen shut with ice and we would have to holler to have someone break the ice so we could get out."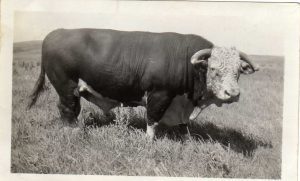 Innovation and technology were a strong component of the Sun Ranch style of business. Jay was sent to Kansas City for a week to learn the techniques of artificial insemination in the mid 1950s, decades before it became a common practice among cattle breeders. Detailed records on all cattle were maintained and available to the buyers that came from Canada to Mexico to purchase carloads of bulls and heifers.
The operation consisted of several locations including ranches at Miltonvale, Junction City, Brookville and El Dorado. The Brookville location also was home to Sun Shooting Preserve, a private hunting preserve that coexisted with the grass cattle operation. In the 1960's corporations such as Boeing would bring Air Force generals to Brookville to hunt pheasant, turkey, quail and chucker. Mounds of birds would be cleaned and quick frozen by staff and Sundgren daughters as the hunters ate the evening meal. The game birds were raised at Sun Sportsman Supply in Solomon. At the fall roundup, thousands of pheasants would create a molten river of brilliant colors as they moved down the alley ways for shipment to the shooting preserve. Norman Sundgren operated the El Dorado ranch which was a partnership with his father- in- law Dr. A. H. Gish, a long time veterinarian. At its peak, Sun Ranch had 7,500 plus acres of grass and farm land under management.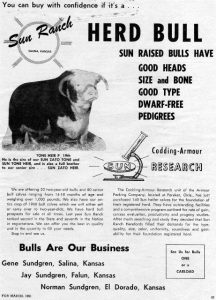 Gene, who served in several capacities in the Hereford Association and in the Kansas Livestock Association, including President, died in an automobile accident in 1964. Norman died in 1994.
The Falun ranch was homesteaded in 1869 by the Sundgren's grandfather, Eric Sundgren, who left his university educated teaching position in Sweden to come to America to farm. After being one of the first settlers in southwestern Saline County, Eric started off by organizing a church and school to improve the community. Eric recognized the potential of the new land for raising a family. Eric's son Ebbie followed in his father's entrepreneurial style by starting a local hardware store in Falun that sold consumer goods plus a complete line of agricultural equipment. He was instrumental in the creation of E. Sundgren and Sons, Herefords, the precursor of Sun Ranch. Jay Sundgren still continues to live on the land that his grandfather homesteaded. The family's connection to farming and raising cattle goes back many generations in Sweden as Ebbie Sundgren's wife's family farm name is Rokulla, or "red cow."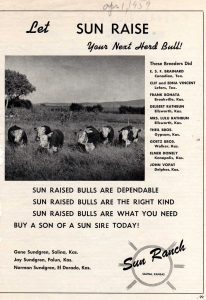 The next generation of Sun Ranch operators also displays the same sense of dedication to cattle and the land. Norman's children's businesses carry the Sun Ranch brand in their cattle, real estate, auction and appraisal businesses.  Jay's daughter Peggy's Sun Ranch Environmental promotes environmental stewardship.
RTK does not hold a conservation easement on Sun Ranch property. The purpose of this article, and the RTK Brand Legacy project, is to archive the multi-generational history of Kansas farm and ranch families.